If there's anything I liked about the new Star Trek (Into Darkness) film, it's that I have an even greater respect for the original movies. Now I know what you're thinking... "Oh here we go, another Star Trek purist." Maybe that's what I am, but at least hear me out.
I feel like the new movies are 5% Star Trek and 95% generic modern action movie. Maybe this is a problem with modern movies in general, but therin lies the largest frustration: If I wanted to just go watch a popcorn movie, I'd watch Iron Man 3 or The Avengers. Those movies are great for what they're trying to achieve - not taking themselves seriously and providing action-oriented entertainment (as well as a few laughs). Star Trek is not supposed to be about action necessarily. It's supposed to be about philosophy, science, the human condition, friendship, and characters and the entertainment comes FROM those naratives. I see very little of those things in new movies.
In addition to the overall sensory overload factor in the latest film, I have a few serious problems with logic in this one (although not as much as the 2009 film). Note, this is only a fraction of the entire list, but ones I'm able to conjure at the moment.
[SPOILERS AHEAD!!!]
(1)Firstly, what was the point of the first 15 minutes? It had absolutely no bearing on the outcome of the rest of the movie - despite Kirk being relieved of command, captain Pike dies anyway, so that lasted about 10 minutes. Nothing came from that scene except it gave a reason for Uhura and Spock to act like children and not speak to each other, which I find absolutely abhorrent for a Trek film.
(2)After you've waisted the first 30 minutes of your time adjusting to the lense flare, actiony camera angle, and overall insane pace of the film, you're blatantly introduced to the apparent villain of the movie through a method I like to call the Drama Praire Dog effect. This villain is awesome, don't get me wrong, I really like him as Khan, but REALLY?! KHAN?! Are you really so devoid of ideas that you have to borrow characters from the other good movies?
(3)Okay it's time to get serious - This part of the movie really pisses me off. The audience is made aware that the only way to effectively go after Khan is to nuke him with some nukes, because we want to stay in the neutral zone and not enter Klingon territory, blah blah blah. The audience is made completely unaware of the fact that there are 72 of them!!! WHAT?! In fact, there's a really nice McGuffin dropped here when Scottie tries to point out how stupid the entire mission is, so Kirk fires him. God that was stupid. Like, really? No one else is going to go: "hey Kirk, why do we need 72 nukes for one guy?" Whatever, moving on...
(4)What's up with the admiral who has a highly-classified ship that goes completely undetected, and yet it's in interplanetary space? That doesn't make sense. If you're going to keep something top secret, at least go to another star system.
(5)Why does the admiral want to start war with the Klingons exactly? Why is he such a prick? Not explained.
(6)So... Khan kills all those Klingons in the action packed battle. Why are there no repercussions for this? Wasn't the entire point of close quarters combat to prevent contact with the Klingons? Ugh, START MAKING SENSE MOVIE.
(7)WHY DO THOSE KLINGONS LOOK NOTHING LIKE KLINGONS??? And what's up with those goofie helmets and armor?!
VS.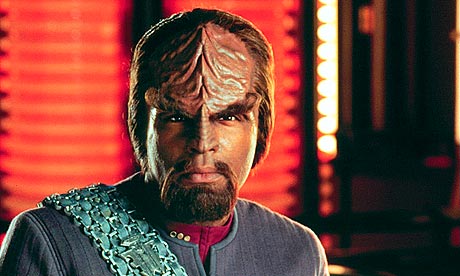 (8)During the battle with Khan, the ship loses power about 200,000-300,000 miles out from earth (roughly at the moon). At this point they start falling to earth. Because PHYSICS! Seriously, that's the stupidest McGuffin of them all. Firstly, if this was how physics works, they would have fallen to the moon since it's, like, right in the background there. But no, this doesn't happen at all in reality and was a plot device to keep the movie going.
Anyway, that's an incomplete list of the things to erk me about the new movie. I'll think of more and amend this post in the future once I see it again. I'm sure there are many more inconsistencies to probe. Overall, the new ST movies are crap - they're made for pure entertainment for entertainment's sake and they don't qualify as Star Trek in my mind.
Tweet